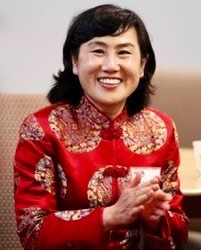 I came from China 17 years ago, never having had a chance to hear the gospel in my home country. It was on the second day after we had landed in Toronto where everything changed. My family and I were walking by a nearby church when we stopped to see what was happening there with great curiously. At that moment a family came over and invited us to the church for the Sunday service.
The hymns and the warmth of the atmosphere so touched my heart in that church, but the language barrier made it very hard to understand the scriptures. Several years later a friend invited me to a Chinese church, where I began to learn more about the Bible and Jesus Christ. I accepted Jesus as my Lord and Saviour and began serving in that church.
As a relative newcomer to Gibsons I have made CLA my home church for the past three years now. I see the Chinese community growing in Gibsons and around the Sunshine Coast and believe God has called me to share the good news. With the support of the church leadership I have found great joy in creating opportunities for people to experience the love of Jesus and spread the gospel through the Chinese Ministry.
After starting the Chinese Ministry at CLA we soon saw an opportunity to partner with the Vancouver Chinese Evangelical Free church. With the help of their missions teams we are expanding the reach of the gospel. We are meeting regularly with full services and events in the Chinese language, and plan to have several big gospel events each year.
I am so thankful God is working and bearing fruit in the Chinese Ministry, and I am excited to see God give us greater opportunities to serve Him in our community and make Jesus known.